Main
-SCP Home
-FAQ
-Paradise 2015!
-Pandemonium!
-Tips/Tactics
-Articles
-Marker List
-Picture Gallery
-The Store!
-Sponsors
-SCP CARES
-Players Connection
-facebook fan Page



Features
-Message Board
-Mavs Ramblings
-Downloads
-Mailbag
-Links
-Calendar
-Feedback

April 20, 2018

Add to Favorites
Set as Homepage
scpmail access


Win Markers at the Shatner Big Game

Be part of the William Shatner Big Game Event!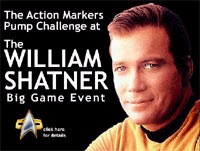 Win one of 6 limited edition AM-P Illusion pump marker from Action Markers with an estimated value of $2125. Only 1 AM-P Illusion will be raffled off with proceeds going to charity and the other 5 will be awarded to the winning team. Other prizes will be given out at different times during the event.

It's the Action Markers Pump Challenge at the William Shatner Scenario Game by Spplat. The AM pump challenge will be held on Friday August 30th at 12 noon.

The first 16 5 member teams to sign up will battle it out in a round robin style of play. Each team is required to register by August 26th and pay an entry fee of $150. Action Markers will be providing the new AM- P Illusion pump markers at no charge for each team to use during play.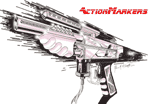 The winning team will be awarded a limited edition AM-P Illusion pump marker made exclusively for this event with an estimated value of $2125. This specially labeled AM-P Illusion will be custom milled and anodized for this event. Also included will be a personally autographed certificate of authenticity by William Shatner.

All players are required to play with the new AM-P Illusion during the tournament. All players will be required to purchase paint at the fields. Markers provided for the tournament are for use during the tournament and are not to be kept by the players.

Call Action Markers toll free for details at 866-478-2255.



Buy Stock and pump Gear and Markers at the Official Stock Class Players Network Online Store, Crash Landing!!



About SCP | Advertise


The Stock Class Players Network, StockClassPaintball.com, Stockclasspaintball.org and Stockclasspaintball.net are trademarks.
all material within, Copyright © 2003-2011 all rights reserved. No unauthorized commercial reproduction without written consent.