Main
-SCP Home
-FAQ
-Paradise 2015!
-Pandemonium!
-Tips/Tactics
-Articles
-Marker List
-Picture Gallery
-The Store!
-Sponsors
-SCP CARES
-Players Connection
-facebook fan Page



Features
-Message Board
-Mavs Ramblings
-Downloads
-Mailbag
-Links
-Calendar
-Feedback

April 20, 2018

Add to Favorites
Set as Homepage
scpmail access


Stuck on Stock Class, The contest!





Summer 2003, Win a Classic Phantom!



Reports have been coming in about www.StockClassPaintBall.com stickers, patches, and other references to our site ending up in all sorts of interesting places. We want to see em!

The challenge is for you to send in your most interesting picture depicting a clear reference to www.stockclasspaintball.com! all pictures will be posted in a special picture gallery, and the site staff will select a winner at the end of the contest!

The selected winner will receive, courtesy www.StockClassPaintBall.com and Crash Landing Paintball, a collectable early edition Unibody Phantom (sn#3430.)!!!!!!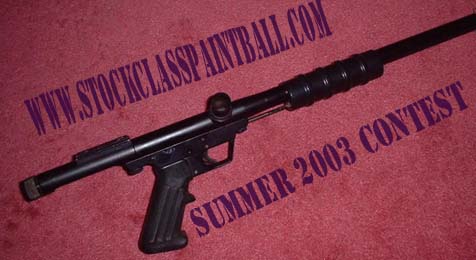 The early CCI Phantom features a 14" non ported barrel, direct feed, and drop out rear mount integrated valve 12gram quickchanger. This is not a "new" Phantom, but shows only slight wear and is in great shape!



Keep an eye out, more prizes could be added at any time!!

How to enter:

Pictures should be 150k or less in data size, and simply email Maverick. with your entries.

Printed pictures may also be submitted if you dont have access to a digicam, email me for a snail mail address, and ill scan them in for you (with a SASE if you want them back.)
All pictures become the property of the site, and by submitting them you agree that we can use them at our discretion.
Official site stickers are recommended to be depicted, you may also depict patches or be creative and design your own scp.com banner, ect. the full web address must be clearly visible to qualify.
Rated "g" submissions only, all pictures are subject to approval before they will be published on the site. Please use care, www.stockclasspaintball.com, also known as the stock class players network, scp, etc. assumes no liability for your pictures, so be aware of your local laws reguarding these things. If you stick it on your local police officers cruiser with out permission, its your problem if you get caught. We will not condone or support any illegal activiies by our membership.



If you need stickers or a patch, they can be obtained via Crash Landing, the site store with a purchase. Or via the free tubes method (stickers only) in the thread on the main forum (donations appreciated to help cover the site expenses.)




The contest starts immediately and ends on July 31st, 2003!


Good luck, have fun and thanks for visiting The Stock Class Players Network!





See all Contests




Buy an Illusion Pro at the Stock Class Players Network Online Store, Crash Landing!!







About SCP | Advertise


The Stock Class Players Network, StockClassPaintball.com, Stockclasspaintball.org and Stockclasspaintball.net are trademarks.
all material within, Copyright © 2003-2011 all rights reserved. No unauthorized commercial reproduction without written consent.