Main
-SCP Home
-FAQ
-Paradise 2015!
-Pandemonium!
-Tips/Tactics
-Articles
-Marker List
-Picture Gallery
-The Store!
-Sponsors
-SCP CARES
-Players Connection
-facebook fan Page



Features
-Message Board
-Mavs Ramblings
-Downloads
-Mailbag
-Links
-Calendar
-Feedback

January 19, 2018

Add to Favorites
Set as Homepage
scpmail access


The New SCP RAXX Marker Utility system! (tm)
SCP RAXX Marker Utility Systems
Introducing the many faces of the NEW SCP RAXX System(tm). The SCP RAXX Will Allow you to keep your markers off the ground, and free up valuable table space when your out in the field, And Display your pride and joy nicely while at home!
Please note the prototype is pictured and actual product may differ slightly from the pictures as improvements and ongoing changes happen. All SCP RAXX systems will be painted flat black, Red is a prototype only color.
All SCP RAXX systems are custom built using durable Poly vinyl chloride o r PVC. Everything you need is included, all necessary hardware (except as stated) and takes just a few minutes to assemble. Additional padding, securing pins, and brackets as needed are all in the package. A blade screw driver may be required (Flat or Phillips type) for final assembly, and the ability to to install wall mollies will be required to install the sky base brackets.
SCP RAXX are currently being field tested , the system has been found quite capable of supporting even the heaviest markers including dual bottle VM-68 milsim set ups, US Army Alpha/Salvo series markers, and about every "long gun " style pump imaginable.. Some flex is inherent to the design on Battle rattle systems. But like earthquake proof buildings, it is designed to flex a bit and remain standing with over 20 pounds of marker load. And Paintball markers aren't all it will handle.
SCP RAXX systems are available in three configurations:
SCP RAXX Battle Rattle: A free standing, three marker, Two Mask display unit that will work both outdoors and indoors. The top unit can be removed and wall mounted to display two markers and masks. some assembly required , This is the Big Kahuna! holds 3 markers, two masks, integrates the SCP RAXX wall mount system, stands alone, table mountable, folds, its the ultimate SCP RAXX!
Folds almost flat for transport!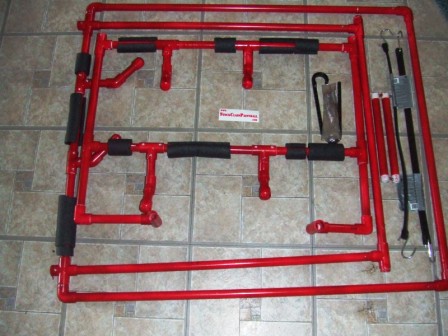 SCP RAXX Wall mount system: Just the SCP RAXX Wall mount section. Will hold two markers and two masks, must be mounted to a wall (all hardware included.) Can be used with the SCP RAXX base if you decided you need a field SCP RAXX later on. Or two Sky Base units can be combined to create a large four gun display.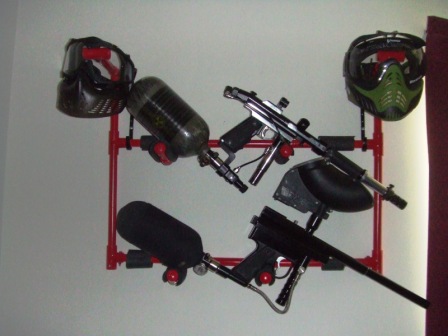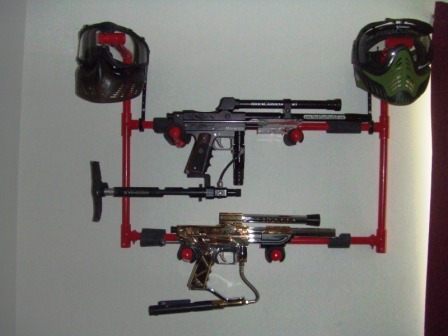 And it works for more than just Paintball markers!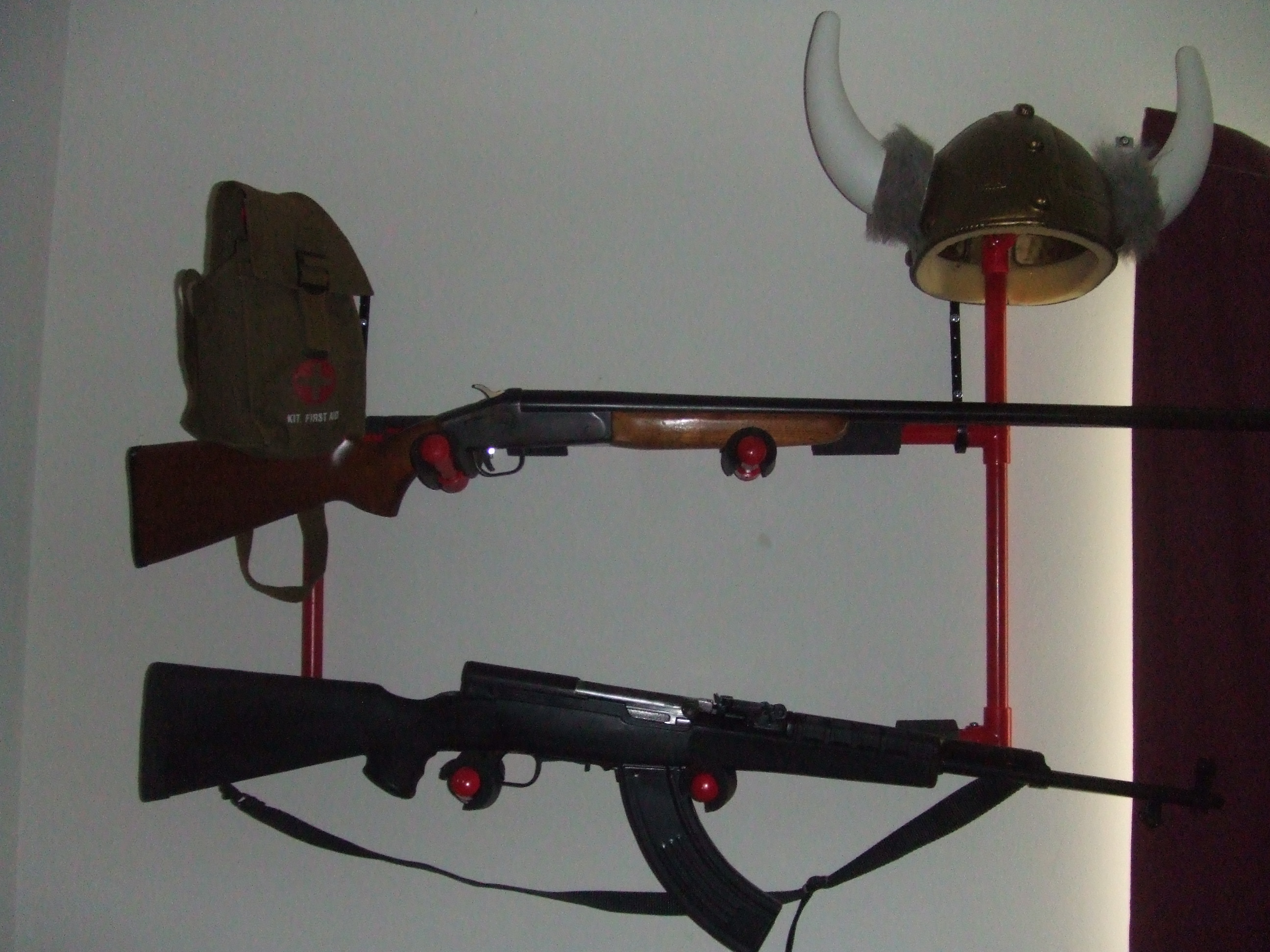 SCP RAXX BASECAMP: Just the SCP RAXX base, holds one Marker and is free standing.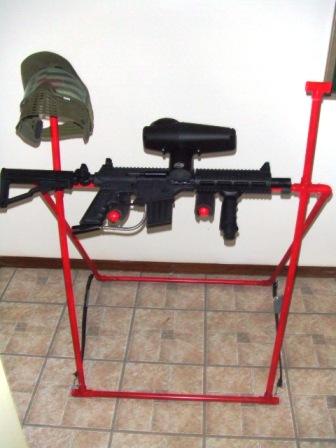 ORDER YOUR NEW SCP RAXX SYSTEM TODAY!
Please note, RAXX shown in Red, all units will be shipped with black finish, and you can paint them in your choice of finishes, or use as is.
We cant help shipping expenses, Boxes will be approximately 34 inches square and 3-5 inches thick. Unfortunately, shipping is no longer inexpensive. We suggest you purchase the complete Battle Rattle, which is the best way to combine shipping and save over individual pieces.

SCP RAXX Battle Rattle: $59.99 plus $24 shipping within continental USA. The Deluxe full set up, and the best Value!
SCP RAXX Sky Base: $29.99 plus $18 shipping within continental USA. The wall mount only.

SCP RAXX BASE CAMP: $36.99 Plus $21.00 Shipping within continental USA Just the base unit.



Alaska, Hawaii and international orders welcome, shipping will be a bit higher

Please allow 3-6 weeks for delivery. Each SCP RAXX unit is custom built , tested and individually pre assembled. Obviously, No markers, guns are included and are pictured for demonstration purposes only.

Its all pretty obvious, but I'm going to state it any way Legal stuff:

Disclaimer: RAXX have been tested and successfully handled heavy loads of 10 plus lbs per marker spread over the unit evenly. Some Flexing is inherent and intentional in the design. SCP, its owner, designer, et al have no liability or culpability of any type what so ever for any damages resulting in the use of SCP RAXX systems. Please secure your marker or other item to the RAXX with a strap, ensure it is flagged and visible and not a walk into or trip over hazard, and is set up as intended. This item, when used properly is convenient and safe, over loading capacity, improper set up, or failure to secure the unit or load may cause injury. Failure to ensure your marker is "safe" , de gassed, and barrel is covered may result in unintended discharge of paintball gun. use extreme caution if using with items other than intended. The SCP RAXX System is currently undergoing patent procurement processes. SCP RAXX, StockClassPaintball, SCP RAXX Deluxe, SCP RAXX Wall Mount System, SCP RAXX Basecamp, Copywrite 2011 StockClassPaintball, registered in Florida, USA All rights Reserved.

Please e-mail SCP RAXX Questions to Maverick



Back to Picture Gallery


About SCP | Advertise

The Stock Class Players Network, StockClassPaintball.com, Stockclasspaintball.org and Stockclasspaintball.net are trademarks.
all material within, Copyright © 2003-2011 all rights reserved. No unauthorized commercial reproduction without written consent.