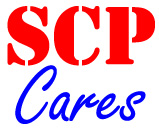 Haiti Disaster-RESCUE fundraiser and prize giveaway!
In support of AIM
Urgent help needed for the people of Haiti!
Get Involved
You Can Help SAVE LIVES!

You can Win a Splatmaster in the original box!

Free SCP Official Patches for the First Fifty $10 Donations!

Help make a RESCUE MISSION Happen!!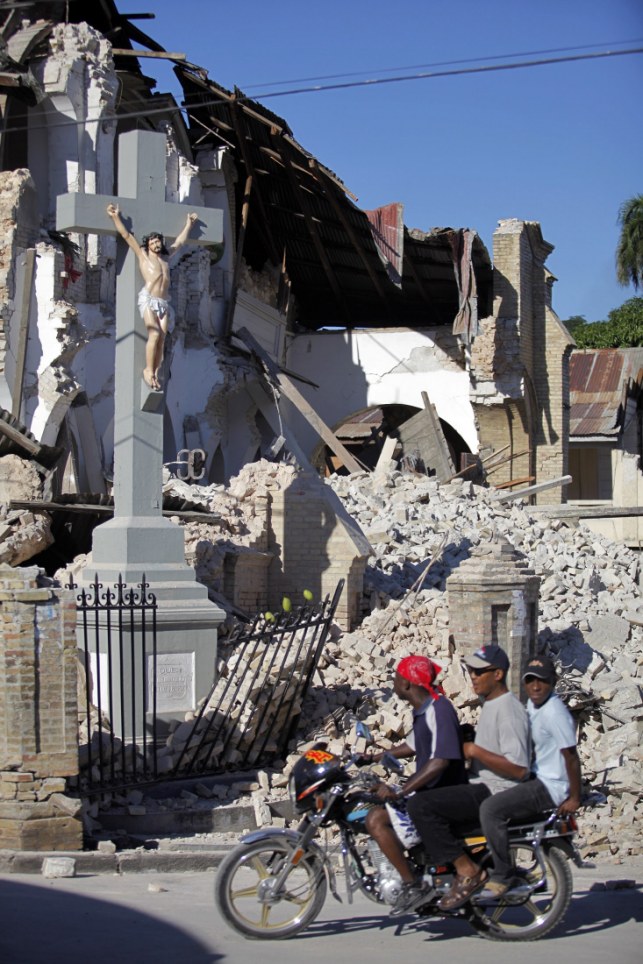 Reuters photo of a ruined church
We want to raise $2,500 asap, so please spread the word!
Tragedy has struck and we're depending on you to help. You've seen it on the news, you've talked about it at work or over breakfast. But the real story is far, far worse. Haiti was an economically and governmentally impoverished country long before the big quake, now it is a place of Death, Disease, and Anarchy. Among the ruins, the survivors struggle for life; a simple drink of clean water is almost an impossible task. Our thoughts and prayers go out to Rev. Abel St.Amour and his family, and congregation. Abel is a beacon of hope in an otherwise dark and gloomy time. Through his actions, with the help of his followers, he has already been able to make one trip to Haiti, bringing over $5000 in supplies with him, mostly with funds from his own pockets. When he arrived in Port Au Prince, he saw supplies lined up at the airport, and people dying all around it. The supplies were not being distributed, they were being cached and built up to make a good photo opportunity for a large organization you all know about and have probably donated too. Hard to swallow for you? think about all those people dying of thirst (literally) staring at pallets of water from across the tarmac...
When Abel got there, his TWO Year old niece hadn't had a drink of clean water in several days, other family members including many children were in dire need of basics, and many were severely injured. Sadly, Abel lost family members injured in the quake who could not get proper medical attention in time. But there is a happy part of the story, as happy parts of sad stories go. Abel was able to bring back a few family members upon his return to the states, including that two year old little girl (who received life-saving treatment for severe dehydration here in a US hospital) AND Abel is going back! As soon as he can raise enough funds and collect enough supplies, he's going back again to distribute supplies directly, and bring back whomever he can. Abel is a true hero, but even heroes need help sometimes, and that's why I've pledged the support of our entire organization. We are going to help save people, DIRECTLY.
WE ARE HERE TO HELP! we cant save Haiti, we can't ease the suffering of hundreds of thousands of people, but we can DEFINITELY help ease the suffering of a few people, and save a few kids from certain death. This is no joke folks, the story is not exaggerated in any way, and however bad a picture I have painted for you, I assure you , it is far, far worse. I am Committed to helping Abel and his organization in any way possible because unlike contributing to a large agency, EVERY DIME AIM GETS RESULTS IN DIRECT AID FOR THE PEOPLE IN NEED. For the first time in its history, SCP Is partnering with a religiously affiliated group because I am 100% convinced we can make an immediate difference, with just a few dollars donation and save peoples lives. It's THAT Important!
Latest update from AIM (Adobe required) with new pictures.
Jan. 30th update, straight from Port Au Prince also with pictures and allot more details, it will make you want to cry.

To these ends, SCP, along with many of our sponsors and generous members are providing several items , and offering you a chance to win them in a random drawing. All proceeds generated will go directly to AIM via Rev. Abel St. Amour. scroll down for details.
---
ways to help:
Sponsor a Prize for this giveaway: Now accepting prize pledges from industry, prize donator will receive SIX MONTHS free ad space on the SCP home page, and sponsor page space.
Contribute Directly to AIM via their WebPages, they accept pay pal and all major credit cards, OR collect crucial supplies and get it to them in West Palm Beach, Florida, look here for details on what the current needs are. This is the preferred method, as the dollars get to where they are going instantly, and it saves transfer fees. (just send me a receipt copy via email and your in the contest!)

Yes, we are nonprofit faith organization register with state of Florida.

All donations are tax exempt. I will be sending receipt to all donors.

Rev. Abel St. Amour

Founder/President

P.O.Box 2122

WPB,Fl 33402
Donate to AIM via their WebPages click here
Alternate method: Donate through SCP via pay pal. All contributions of $5.00 (US Funds) or more will enter you into the drawing. Please only use this method in special circumstances, we prefer the funds go directly to AIM in the above method. This Methoid is NOT Tax Deductable.
All Contributions to AIM qualify you for the contest, simply forward a copy of your paypal receipt (direct through aim), shipping invoice or other acknowledgement that aim received your donation to Email the info to Maverick , For every $20.00 , or equivalent in goods you donate to AIM, you will receive one additional "bonus" entry , giving you five opportunities to win a prize at the cost of four
First prize:
An Original National Survival Games Splatmaster marking pistol, in the box (may differ slightly from picture)
YES, IN THE BOX!! I found a stash of these a long time ago, and bought them all, I think this is the last one in the box we have! Good luck finding one of these in decent shape, let alone in the original box, with the original manuals! A legendary classic in the history of paintball, and one of the last mint in box splattys on Earth, and you can win it by helping a great cause!!!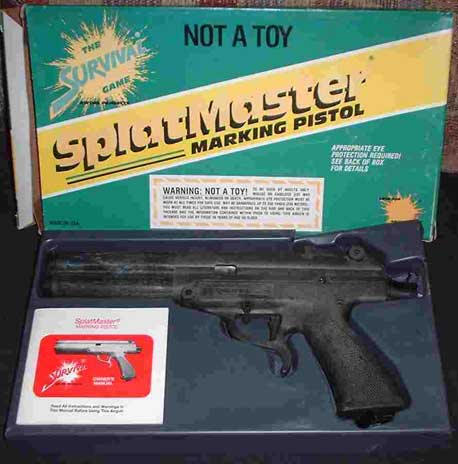 Donated on behalf of www.StockClassPaintball.com and its staff.
Contribute $10 or more and get a FREE Official SCP Patch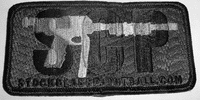 (limited to the first 50 donations, this is the LAST 50 NEW SCP patches in existence!)
Chance to win an original WGP 40 round Ammo box, We have six available for six lucky winners...
Chance to win a Pump Pandemonium (2004 1st edition) Patch, we have 30 available
More updates soon!!!!
Additional Prizes: Put Your companies name and contribution here! Email Maverick for details.
IMPORTANT: When you donate, you must Notify MAVERICK via email and attach a copy of your paypal receipt or other documentation. Since we need any contributions to get quickly and directly to AIM, if you do not do this, there will be no way for us to know you've contributed and add your drawing entries.
---
For updates , please check the SCP message board. All entries will be placed in a blind drawing, there is no limit to entries. Open to everyone, over the age of 18, and under the age of 18 with parental consent. Void in areas where blind drawing, fundraisers, and good stuff is made illegal . check your local laws. donation not required to enter, but it is definitely appreciated. to enter with out making a donation because you want to be a cheap, cruel type person send a 4.75234" by 6.15879364" postcard to :
SCP AIM FuNdRaisir
558 NW Placid ave
port saint lucie, fl 34983
non conforming entries will be discarded. Drawing will be concluding by Feb 28th, 2010 all funds raised will go immediately to AIM upon receipt. no refunds, no returns, no exchanges on donations or prizes. Prizes are antique and between 15 and 30 years old, and in no way warranted to be fully functional, but ill test it before it goes out if possible.
Donate a few dollars, helping to pay to literally rescue people, and keep them alive.. how often do you know, really know, you helped change or save some ones life? Help out here, and you'll not only be able to say it, you'll have really done it!
Our thoughts and prayers are with you and your family ,thanks for your generosity.
Want to do more?
Create a donation collection point
Host your own fund drive
Coordinate with groups raising funds and supplies, and help transport those supplies to airports in the South East.
Volunteer to host displaced children
Thanks for stopping by.
Have an event you need help with? Email the info to Maverick