Today is February 24th, 2011 and as of today I have been unemployed for exactly 85 days, and I have to say, its not all bad! It's frustrating and depressing sometimes, and I occasionally have panic attacks that I try to hide from everyone whenever a bill comes in, but I think I've got that under control now that the initial shock has worn off.
Don't get me wrong, I've had a few calls come in, but nothing has panned out yet. In fact, this morning I went on an interview. I was apprehensive about this interview because it was completely out of my field, way out, but what the heck, why not see whats what, and it gave me a chance to brush up on my interview-ee skills a bit.
You see I'm basically an administrator; all my training and skills have been centered on running things, usually very complex things. It's not easy for me to be the one answering the questions instead of asking them. I also have a heavy background in law enforcement and private security, which translated means I can tell pretty quick when some ones trying to hide something.  This happens automatically, my BS detector activates and I go into interrogation mode. Now that really isn't good when you're trying to get a job, it makes people nervous. And that's exactly what happened today, In a nutshell, it went like this:
Wow, that sounds like a great opportunity! Let me see if I have this straight?
You want me to use my own vehicle, go to customer's houses to have them sign off on documents, then try and sell them upgrades right?
There is no base salary, its commission only, and I only get paid if I can convince them to upgrade?
Soooo,  I do all your work for free, for nine hours a day, including using my vehicle and my gas, and you pay nothing for that? Oh and you get the commission for the deal that's already been worked out right?
Awesome!!
So when's the last time you were arrested? Really!  I mean I don't care, but you seemed awfully nervous when you were reading my resume…silence ensued…

Needless to say, I dont think I got the job but I did get a "special" code put on my application "that means well call you back first " uh huh…   I think that guy has already booked his flight out…
What does this have to do with paintball?
Well, when I went jobless, I started to dig out stuff to sell, get rid of the excess and try and pad the bank account a little bit. When I got to the paintball stuff, It took me half a day to dig everything out, sort it, and check prices to see what it might be worth. A funny thing happened during all this, I started to miss paintball.
Conveniently a good friend (that allot of you probably know) invited us to the local paintball field (and he didn't show up by the way, uh huh) But Gypsy and I went and we had a blast. We were in rental gear, it was night play, the goggles were fogging like crazy, we looked like newbs, and we were just giggling the whole time. To make matters even better, it was her first time (okay, she was a newb ) and she played like a pro, literally!
Since then, I've buying and selling some paintball items and with some wheeling and dealing, have upgraded allot of my old equipment. It hasn't cost me a penny, I sell this and use the money to buy that, then take the part I needed off that and sell the rest, usually making my money back. I've found some really good deals, and I've given some pretty good deals too.  I used a bit of the extra to get Gypsy set up with a great set of goggles, and a mini cocker, hpa tank and some other essentials. When she's ready for a pump she'll let me know, for now, she's my cover fire. (insert Evil Laugh here!)
Now were planning a Florida pump chump reunion next month, the website is being updated, and allot more. I'm still getting the bills paid, though I did have to sell my beloved Truck, But we find ways to cope. But the important thing is it doesn't have to  be all supreme sacrifice and suffering.  Fact is, Im having a bit of fun with this!  I still have my moments, and I still spend a good part of each day job hunting, but in between, Im rebuilding paintball guns, buying and selling gear, updating the website and even recruiting help for that.
So its not all bad, If I hadn't become unemployed, I might not have been reminded of how much I enjoy this sport, and how great the people that play it are. We get so caught up in trying to make a living that we sometime forget these things. And sometimes it takes a big knock in the ego to remember.
I think Ill be around for awhile, still have to find a real job and soon, but I don't think I can go right back into complete career mode. We all need a break from that, and times with loved ones and friends, and a little adventure once in awhile, and that's what paintball does for me.  As the great man sang, "We don't always get what we want, we get what we need!"
What does paintball do for you? Don't be afraid to comment , I am really interested!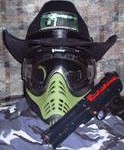 -Mav